Are you ready to become a
dangerous
air personality?
PERSONALITY RADIO, Volume Two:

THE

DANGEROUS AIR PERSONALITY
by Dan O'Day

(262-page e-book) (PDF format)



f you're among the thousands of program directors and air personalities who have purchased
PERSONALITY RADIO, VOLUME ONE
, you probably don't need a big sales pitch here.
The
dangerous air personality
is the one the listener is afraid
not
to listen to. This book will transform the talented jock into a lethal programming weapon!
Tons of actionable tips on topics including:
A Teasing Primer


Trashing The Competition


Sparking Creativity


The Letterman Glut


Disc Jockey Clinic


Localization Take-Home Quiz


The Oldies Jock's Secret Weapon


Tools For Night Jocks


The "Sidechick" Syndrome


Five In-Depth Aircheck Critiques


"Candid" Calls


Phone Calls — What Is Legal?


Handling Complaint Calls On-The-Air


17 Steps To Great On-Air Phoners


Request Line Hang-Ups


Radio Comedy


Sample Radio Character


Creating Traffic Reporter Laughter


Jock To PD: "How'm I Doin'??"


Strategies For The On-Air Program Director


PDs: Setting Specific Goals For Jocks


Motivating Air Talents To Success


Managers: How To Inspire Loyalty & Top Performance From Your Air Staff


Promoting Yourself In The Trades (including an exclusive, inside look at how to get trade publications to write about you)


Local Newspaper Coverage: It Can Be Done


Local Publicity Recipe


What's Wrong With This Résumé?


A Contract Trap


Morning Drive Success: How To Achieve It, How To Keep It


Disc Jockeys & News People: A Team Effort


Ethical Questions: Gifts, Not Bribes


Career Advice


Interviews with 8 top personalities (including Gary Burbank, Bob Steele and George McFly)
PERSONALITY RADIO, VOLUME TWO: THE
DANGEROUS
AIR PERSONALITY is a 257-page e-book (PDF format), available for immediate download.
Your book can be read (and printed) from any computer that has Acrobat Reader (Version 4.0 or higher).
If you
don't
have Acrobat Reader, you can download it for FREE from:
<
http://www.adobe.com/products/acrobat/readstep.html
>.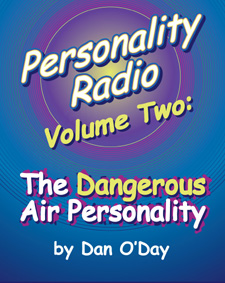 PERSONALITY RADIO, Volume Two:

THE

DANGEROUS AIR PERSONALITY
by Dan O'Day

(262-page e-book) (PDF format)



IMMEDIATE DOWNLOAD!

Immediate delivery! When you submit your order, you'll be able to download this valuable book immediately!