For radio station program directors only.
101 WAYS TO MAKE YOUR RADIO STATION INVINCIBLE
by Dan O'Day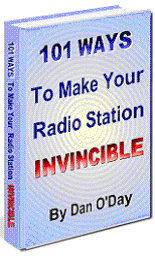 (126-page e-book) (PDF format)
101 Strategies to:
Increase Your Ratings
Defend Your Turf
Add Revenue
Inspire Your Team
Whup the Competition!
Look, I don't want you to make a mistake.
You should order this book only if you meet the following two criteria:
You are a radio station program director.

You're already at least somewhat familiar with my work and my approach to creating unique, winning radio.
Why Must You Be A Program Director
To Use This Book?
Because this isn't a book of radio theories.
It's not a collection of thoughts, advice, and wisdom.
It's not the kind of book you can read in your leisure time and, when you've finished, you'll immediately be better at your job.
It's a book of 101 things for you to do to improve your radio station.
Just reading this book without doing anything won't help you.
If you're not responsible for your station's programming staff, then you won't have the authority to implement most of the 101 powerful strategies outlined in this book.
No, I'm not trying sell via "reverse psychology."
I really mean it: Please do not order this book if you're not a program director (or equivalent title).
Why Must You Be Familiar
With Some of My Other Work?
Because if you've never heard of me, I have no credibility with you.
If I have no credibility with you, you'll be tempted to dismiss some of the 101 strategies as "too wild" or "too tame" or "too weird" or "too obvious" or....
I want you to have this book only if you already have reason to believe that when I talk about radio programming, I know what I'm talking about.
You don't have to agree with everything I've ever said.
You don't have to think I'm a genius.
But you do need to know enough about me to have decided, "O'Day's a pro, and he knows his stuff. I won't blindly do whatever he says, but I trust him enough at least to consider each of these 101 strategies."
"Your Seminar Should Have Been A Book."
101 WAYS TO MAKE YOUR RADIO STATION INVINCIBLE began as a live seminar that I premiered at PD Grad School.
It got great reviews from the attending professional radio station programmers from around the world:
"How awesome! A complete list of actionable things I can implement today!"
"This will help me maintain my core listeners and attract P2's and P3's!"
"Lots of great ideas, very actionable."
"All 101 ideas are useful! I think I'm going to put at least 10 things to work right away, then work hard to begin at least two per week until I've tried them all."
"Absolutely, immediately actionable stuff!"
"Dan always gets to the heart of the matter. So many great ideas!"
Ah, but that last review identified the problem:
With 101 unique, compelling ideas presented with all the detail a PD needs to put them into action, the entire session consisted of me explaining the concepts while the attendees raced to write them down.
Even though this was one of the highest-rated seminars I've ever given, I probably won't perform it again.
Why not?
Because I realized that for a smart, aggressive, ambitious PD to get the most out of these ideas, they should be compiled into a book.
But Not Just Any Book.
I didn't simply transcribe the seminar and call it a book.
Instead, I designed 101 WAYS TO MAKE YOUR RADIO STATION INVINCIBLE in a manner calculated to make it as easy as possible for a PD to begin using these strategies immediately.
For each strategy, I've included a column in which the PD is to jot down action points to insure that the concepts don't just sit there on the page.
Remember, these are not "theories."
They are highly actionable, highly effective strategies which a smart, ambitious program director can use to make his or her radio station virtually invulnerable to outside attack.
If you implement just one new strategy per week — and I do recommend that you go slowly, so you can savor the instant benefits each strategy will deliver — then 101 WAYS TO MAKE YOUR RADIO STATION INVINCIBLE will be your detailed Success Blueprint for the next two years!
Download your copy now for just $27
Man, you don't believe in holding back, do you?? I scrolled through your web page reading all the reasons why I should buy this with a cynical frame of mind. Then I thought at that price it was worth a try...and I'm not disappointed.

Some great stuff in there for programmers new and old. Reminds me of a quote from former UCLA basketball coach John Wooden: "It's what you learn after you know it all that counts."

— Dick Stone (Programme Controller)
96 Trent FM/Nottingham (UK)
101 Ways To Make Your Radio Station Invincible helped me really focus on the radio station. And we're now sitting in the best position in its history. This book really helps you break thru the clutter in a simple and effective way! If you only read and implement a page a day, then your station will be infinitely better in just 101 days!

— Les Sinclair (Program Director)
WQMZ/Charlottesville
Just purchased your e-book, 101 Ways To Make Your Radio Station Invincible. Great content! This will be a valuable programming aid!

— Dan Rivers (Operations Manager)
Clear Channel Youngstown
I keep 101 Ways To Make Your Radio Station Invincible on my desk and refer to it on a regular basis. It's full of programming ideas that are simple to understand and implement...and can make a real difference to the sound of the station and the way we serve our listeners and clients. A great investment!

— David Farough (Program Director)
Classic Rock Q107/Toronto
Download your copy now for just $27
The Beauty of the E-Book Format.
Each week, select just one of the 101 strategies to implement.
Print the page(s) devoted to that one strategy.
Make all the notes you want on the pages you printed — secure in the knowledge you'll still have a pristine, perfect-condition copy of the entire book in digital form.
That means you can print the pages you want — and mark them up as much as you want — again and again and again.
Download your copy now for just $27
I ordered the book with some hesitation, but it is a great help. In it were some things I never thought of, some I should have known, some we do, and some I had forgotten. In our case, #8 made it a better place to work; #5 helped connect us to more listeners; and #39 is simple but will enhance our station image and make us money.

I could go on, but then I'd be writing a book. Bottom line: Buy this book. it's well worth the money, and more importantly It's well worth the time spent reading and rereading it.

— Jeff Harvey (General Manager)
WCOW/WKLJ, Sparta
You can't go wrong with this book; it doesn't get any easier than this. I can honestly say that thanks to your book, we kicked the competition's ass and right now we are the No. 1 station in our format. Now my energies are of course focused on maintaining this rating, which of course I'll do...thanks in no small part to a certain little book called 101 Ways To Make Your Radio Station Invincible.

— Arturo Illueca (Programming Director)
Los 40 Principales/Panama
I've long been a fan of your newsletters, but a few days ago was the first time I purchased one of your books: 101 Ways to Make Your Radio Station Invincible.

Let me just say that this is the most rewarding e-book purchase I have ever made. It's loaded with concrete ideas that are fresh, unique, fun...and can be implemented in any station.

Reading through the book also inspired me to developed scads of ideas of my own! Thank you, Dan!

— Conrad Flynn (Production and Operations Coordinator)
Penn's Peak Radio, Palmerton
Download your copy now for just $27
Any Format. Any Market.
You can use these 101 strategies at your radio station regardless of your format.
And they apply to non-commercial as well as commercial stations.
But I don't recommend 101 WAYS TO MAKE YOUR RADIO STATION INVINCIBLE to student radio stations.
And it won't be much help to an Internet-only station.
These strategies are designed for "brick & mortar" broadcast stations.
Download your copy now for just $27
Sometimes the most basic ideas are the ones we forget. With the 101 Ways book, it has been a good refresher on what to do with a station to make it stronger, right down to motivational ideas for your staff. Already I have been able to use a number of the ideas with my Program Directors when dealing with competition in the market. It has become a very valuable resource for me.

— Scott Stevens (Operations Manager)
WMMZ/WKZB/WJXM/WALT/WMLV, Meridian
Just so many incredible ideas! We actually have a guy on staff who can help us do Technique #43, and I expect to have that on the air very soon! Thanks for that great tip that will make our stations — or any stations who have the guts to try it — really stand out!

— John Callahan (Operations Manager)
Milton-Lewisburg Broadcasting
I must confess that your book has made my life so much easier! I was looking around for ideas and tips...and then I came across your book. The book is so crisp and concise that it doesn't matter if you are an old pro or a complete newbie, you actually can take your programming and your station several notches up. Thanks for a great book!

— Ravi Nair, Radio Asia FM/India
Impressive catalogue of thought-starters, tips and motivators... packed with the kind of information you might get at conferences, furiously taking notes, attending all the panels and spending much, much bigger bucks. This is a bargain!

It's great to find the occasional item that you're already doing, but even better to find the ones you know you can get started on right away. Everyone will have a different 'starting point', depending on their station's needs. I keep a print-out of the entire book in my briefcase, as inspiration.

— Gene Stevens (Program Director)
AM 740/Toronto
Download your copy now for just $27
A Few of My Favorites of the 101 Strategies
How your local newspaper will (unwittingly) provide you with valuable

Audience Interest Research

(Page 10)

Where to find

dozens of original programming ideas

not already being done in your format...in a single day... without leaving home! (Page 13)

Incredible motivator for your Production Director (Page 22)

Historical Log Analysis (Page 29)

How to

exploit the history of your market's "Heritage Station"

— whether that station is you or your competitor! (Page 32)

The Celebrity Hit List (Page 49)

Music Stations:

How to get superstar artists to volunteer

to be your disc jockeys! (Page 54)

How to turn your bookkeeper into a member of your promotion department (Page 91)
Download your copy now for just $27
Maybe you're a PD who doesn't go to seminars or doesn't have a consultant. Dan O'Day to the rescue! Any PD who actually does the things Dan suggests in this book will become a much better PD — and your station will become a better station. This book is like a college-level course in how to make your radio station better. Only you can't GET this kind of instruction in any college that I know of!

— Ray Edwards (VP of Programming)
New Northwest Broadcasters
I received your mailshot regarding making your station invincible. Being curious, I followed the link and ordered online. Moments later I printed my copy and started to scan the pages.

I have to tell you it makes great reading.

So much priceless guidance, even for a seasoned pro. I'm a big fan of instant gratification, and the possibility of getting material pronto really appeals to me.

I have already passed on the link to a couple of radio pals who could also benefit from ordering their own copy.

— Gavin McCoy (Head of Presentation)
Saga Radio & PrimeTime Radio/London (England)
101 Ways to Make Your Radio Station Invincible has been an invaluable resource for me and my station. It has given me specific, actionable ideas that have directly impacted the on-air product that we put out each day. From managing people to answering many of my internal questions about the ins and outs of programming, it is something that I consult daily. All PDs who face daily challenges in our business business can benefit from 101 Ways to Make Your Radio Station Invincible.

— Dave Crosser (Program Director)
WCKY-FM/Findlay
Download your copy now for just $27
Look, This Is A "No-Brainer."
If you don't program a radio station, 101 WAYS TO MAKE YOUR RADIO STATION INVINCIBLE can't help you. So if you're not a PD, please do not order this book.
If you do program a professional broadcast radio station and you're always looking for that "extra edge" to help put your competition in the deep recesses of your rear-view mirror....
At this price, you'd be crazy not to order 101 WAYS TO MAKE YOUR RADIO STATION INVINCIBLE immediately.
Download your copy now for just $27
101 WAYS TO MAKE YOUR RADIO STATION INVINCIBLE is a 126-page e-book (PDF format), available for immediate download.
Your book can be read (and printed) from any computer that has Acrobat Reader (Version 4.0 or higher).
If you don't have Acrobat Reader, you can download it for FREE from: http://www.adobe.com/products/acrobat/readstep.html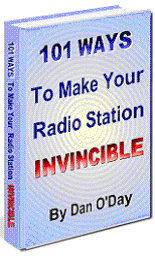 IMMEDIATE DOWNLOAD!
Immediate delivery! When you submit your order, you'll be able to download this valuable book immediately!