Add the e-book version of FUNDAMENTALS OF RADIO PROGRAMMING for just $10 more — a $27 value.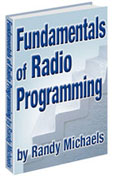 Now you can hear and read Randy Michaels' priceless radio programming advice.
For just $10 more, you can have the same 55-
page "e-book" (PDF) version that radio people
around the world have purchased for $27..