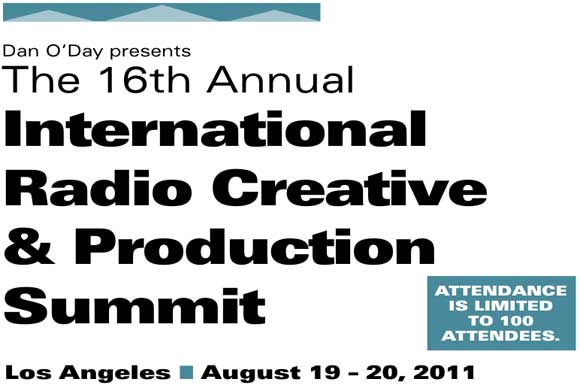 YOUR HOST

SPECIAL GUEST SPEAKERS

How to Apply "Made To Stick" Principles to Radio Advertising

10 Things Every Audio Producer Must Know About Music

Building Your Four-Square Professional Network

Improv To Improve — As A Writer, As A Performer

Critique-A-Spot- A-Thon

Targeting Any Voiceover Script's Emotional Inten- sity "Sweet Spot"




Dan O'Day is radio's
commercial copywriting guru, specializing in Client Retention via results-producing advertising. He has consulted radio stations, advertising agencies and businesses and presented seminars and keynote speeches at industry conferences in 36 different countries (so far).
Dave Foxx is Creative Services Director of Z100 /New York. ("I get up in the morning, walk into a padded room filled with toys, and every two weeks they give me money.") Dave has won dozens of production awards, produced a platinum record, and is "the voice guy" for dozens of radio stations from Bakersfield and New York to Tokyo and Paris.
Nancy Wolfson has had a profound effect on the voiceover world as a Voiceover & Branding Coach, Demo Producer, and e-Casting Director. She has helped thousands of beginners, celebrities and working pros "crack the code" that brings their performances to a higher level than they ever dreamed they could achieve. In addition to coaching, Nancy casts talent daily. Recent and ongoing clients include Playboy, VH-1, Muzak, the NHL, Nickelodeon, Clear Channel Communications, and The Cartoon Network.
Two extraordinarily full,
exhausting, rewarding days
of learning, working, creating,
and recharging your creative batteries!